2023 Congratulation to Carlsbad Food Tours for winning: Viator Experience Award: Top 10 Food Tours and Experiences
Viator Experiences Awards recognizes top experiences in special interest categories based on the quality and quantity of reviews and ratings on Viator over a 12-month period. Your product is one of only 10 selected from your region!
Winning Experience(s):
Carlsbad Food Tour and Wine Tasting Category: Top Food Tour or Experience
Region: USA 2023
---
---
Conversations with Entrepreneurs, Artists & Creatives
---
2022 Carlsbad: People, Purpose and Impact podcast:

---
2021 Kindness Certified Company:
We are thrilled to announce we are now a #KindnessCertifiedCompany! As we
commit to being good to our people, community, planet and world, we hope
others will also be inspired to join us in spreading kindness.
---
---
2020 Hello Dorsey Podcast:
---
2020
---
2019 SD VOYAGER
SAN DIEGO'S MOST INSPIRING STORIES:  Meet Cherimarie Poulos of Carlsbad Food Tours
---
2017 Woman-owned Small Business Award with the Carlsbad Chamber of Commerce
Cherimarie Poulos owner of Carlsbad Food Tours won "Women-Owned Small Business Award 2017". The Carlsbad Chamber of Commerce created their annual small business awards as a way to recognize the accomplishments of small-business owners.
---

As Seen On: 2015 MSNBC It's Your Business Show:
We believe the best way to experience Carlsbad Village is through food because food tells the story of a neighborhood's people, history and culture. Whenever we travel, food tours top our list of favorite things to do! Carlsbad Food Tours was born out of our love of fine wines and delicious food and traveling. After traveling and experiencing food tours in other cities, we decided to make our way back home to Southern California and bring the world of Food Tours to our community. Carlsbad Food Tours is a historic walking tour in Carlsbad that was started in North San Diego County in 2014. We became the first guided culinary and wine walking tour in Carlsbad Village. We are focused on helping visitors and Carlsbad residents alike enjoy the best "off-the-beaten-path" food and cultural experience possible. Eat like a local and enjoy a taste of Carlsbad!
Our mission is to share joy & kindness with every bite!
---
2015 GFTA: Global Food Tour Association
GFTA's mission is to ensure Food Tourism professionals thrive globally. Initially seeking mutual professional support on the heels of Food Tour Pros vast network, GFTA launched the Global Food Tourism Conference (GFTC) starting in Chicago in 2015, an annual event attracting business owners, CEOs, managers, support staff, tour leaders, buyers, national tourism boards and more from all corners of the world.
---
2014 Carlsbad Food Tour Opening Date
---
Workshop for new business owners starting a food tour
---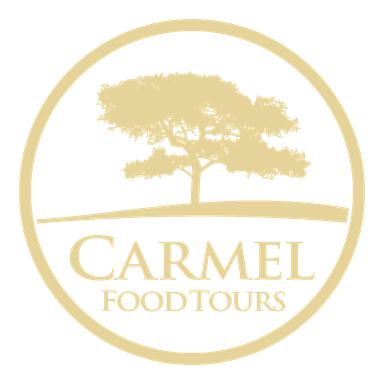 Carmel Food Tours First Food Tour visited, which began the vision…
Meet the Team
Cherimarie Poulos
Owner & Founder
Cherimarie Poulos aka Mrs. Carlsbad is the OWNER AND FOUNDER.  Born & raised in California. She has lived in San Diego over 30 years, her children were born in the area. She has a strong connection to Carlsbad, in fact one of her daughters was Miss Carlsbad 2005 (Stacy Poulos).
So, she voted herself to be Mrs. Carlsbad. Now the Chief Foodie and Founder of Carlsbad Food Tours! She loves Carlsbad and is happy to share her knowledge about the local history and great eateries in the Carlsbad Village.
She is also a community champion and as such won the 2017 Woman-owned Small Business Award with the Carlsbad Chamber of Commerce.
2023 Influential Women in Carlsbad – Carlsbad Chamber of Commerce Business Journal
Cheri loves showcasing the delicious food, deep-rooted history, and unique culture Carlsbad has to offer!
And guess what?  By taking a tour with us, you're helping support local Carlsbad businesses.
Favorite Food: Chocolate
Favortie Drink: Coffee
Favorite Food Quote: "First we eat, then we do everything else" - M.F.K. Fisher
Brad Poulos
Director of Marketing & CFO
Brad Poulos was born and raised in Chicago. So he knows what great food is all about! He moved to San Diego over 20 years ago. He has had a very successful 30 year career in Marketing. He now serves as our Marketing Director & Chief Financial Officer.
Favorite Food: Chicago Pizza
Favorite Drink: Lemonade
Favorite Quote: "One day at a time"
David Jenson
Lead Tour Guide
David previously worked for 20th Century Fox Studio creating movies. He's currently working as a Tour Guide with Walk the City Tours. He's also a member of the JourneyBirds Band.
Ben Mastracco
Tour Guide
Food Coach at Ben Mastracco Food Coaching. Recipe developer, blogger and comedian. Creator of Comedy Kitchen, a YouTube channel featuring quick and healthy chef inspired recipes for the home cook, with a unique comedic twist.
Eat healthier, laugh harder & be happier is his motto.
Ben mastracco Food Coach – Plant-based Eating
Tour Guide/Hollywood Western Stuntman/Whiskey Aficionado
Ed Adams. Actor: Young Guns II. Ed Adams is known for Young Guns II (1990), Shadowhunter (1993) and Lightning Jack (1994).